Event programme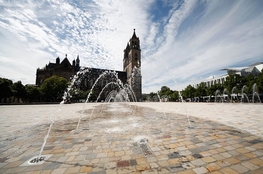 On the following page you will find many exciting events. The website will be updated every now and then so keep checking this site!
If there is enough capacity and the event is appropriate, your family members are also welcome to join you at the event. Please ask for more information when registering.
Register for our events by sending an e-mail to mips@ovgu.de !
September 2022
Day trip Hike in the Harz Mountains
Saturday, 17.09. 9am-7pm

Postponed to 24.09.



In September we have planned a little hike in the Harz Mountains for you. At around 9am we will travel together from Magdeburg main station to Ilsenburg. There we will start our circular walk, which is 13 km in total. Among other things, our hike will take us past the Ilse Falls and the Ilsestein. Of course, we will take breaks to rest and take photos. Depending on how long we need for the hike, we will have some time afterwards for a little snack in the town (self-pay basis). At around 5.30 p.m. we will return together to Magdeburg, where we should arrive at around 7 p.m.
The participation fee is 3 Euro per person. The payment can be handed in cash at the MIPS office.
Please don't hestitate to contact us in case you have any questions: mips@ovgu.de